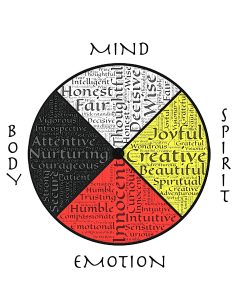 In this first episode of Imagine-Nation-Radio's Women and Wellness Series, Terry Folks describes how she uses the Wellness Wheel in her practice.
The Wellness Wheel allows us to examine our self-care and find balance in each of the four major domains of life: Spiritual, Emotional, Mental/Intellectual, and Physical.
"Women in our culture are too often expected to assist with other people's self care – at their own expense," Terry notes. "What I see most often in my practice is 'imbalance' as women attempt to juggle so much service to so many others in only so many hours."
Terry uses the Wellness Wheel in a variety of ways in her practice. She shares some of the self-care strategies that come directly from working with the wheel.
"Self Compassion is key to reflecting on your current balance (or lack of balance)," says Terry. "We all have 'wobbly wheels' occasionally, especially as we move through life's transitions. That's understandable. My concern is what can happen to our sense of ourselves (our "I Am-ness") if we stay un-balanced for too long."
Want to follow along with us?
Download the blank wellness wheel and questions below.
About Terry
Terry Folks is a Canadian Certified Counsellor, Spiritually Integrated Psychotherapist and Registered Clinical Counsellor.
She maintains a thriving practice in the Comox Valley on Vancouver Island where she specializes in women's issues.
Her clients include professional women (working or semi-retired) and professional "Moms" (women dedicated to parenting, home schooling, house management without pay, etc).
Terry also facilitates "Sophia" Women's Wisdom groups for like-minded women who wish to explore their inner wisdom as reflected in the ancient global Wisdom Traditions.
As a Healing Touch practitioner, she also offers treatments with co-practitioner Wendy Turner at SpiritFirst Counselling and Healing Touch in Comox.
About Kara
Kara is the founder of Imagine-Nation-Radio, a podcast about interesting people and ideas that is just getting off the ground. This interview with Terry is the first in a series that Terry and Kara are working on called the Women & Wellness Series.
This series will highlight some of the best tools that Terry uses in her practice.
If you'd like to be notified when the next episode is available, email Kara.
We both really appreciate your interest and support, and we hope you enjoy this series as it unfolds.
Resources Mentioned
Please note that books listed here contain an affiliate link which means if you purchase a book through this link, a few pennies come to us. So if you decide to purchase this way, thanks very much for your support!