Tea With Terry: Summer Solstice
This month's blog features Summer Solstice.
Celebrating Summer Solstice (Litha)
Litha comes from earth-based spirituality, each year on June 20, 21, or 22.
This note from Carla led me to think about it:
Dear Ms. Terry,
What is Earth based spirituality and what are some ways to practice it?
Curious, Carla
Dear Carla,
Earth based spirituality, sometimes called Paganism or the Old Religion, is based on deep reverence for Mother Earth and all that She provides, but it is also practical in its emphasis on embodying spiritual practices. Great attention is paid to the movement of the sun throughout the year, the moon's cycles, and in how to honor the natural rhythms of planting, tending, harvesting, and decay. Rituals are clear and simple connections between personal spiritual growth and conscious evolution as it is reflected in these natural cycles.
For example, what dreams do you have for yourself? Think Spring, and seed planting. What brings Light to those seeds, and encourages you in fulfilling those dreams? Think Solstice. What action needs to be taken to make your dreams come true? Think Summer, and tending the garden. What do you hope to harvest? Think late Summer/early Fall and enjoying the fruits of your labour. What needs to die before something else can be reborn? Thank Winter Solstice and allowing for stillness and a settling in.
I will be sharing these annual rituals in my blog as the Wheel turns over the year.
So glad you asked,
Ms. Terry
Ways to Mark the Occasion:
The longest day (most hours of sunlight, and the shortest night) of the year in our part of the world, the summer solstice marks the beginning of summer even though the days will now get progressively shorter as we head toward winter solstice on December 21st. We honor our connection to the sun, and how she dictates our seasons.
Our friends and neighbors love it when summer solstice comes around on the annual turning of the wheel, because we create an opportunity for everyone to gather and participate in annual outdoor rituals we all enjoy.
We feast on shared goodies, and play games like bocce, croquet, grass badminton, or kubb. At some point in the festivities, we hand out recyclable ribbons or threaded paper and ask our guests to write down what brings them light. These ribbons are gently tied to our solstice tree where they flutter in the wind over the year, manifesting even more of what brings our guests light.
Since we've moved our celebration to a public park, the rituals have evolved along with us.
Some of the words that people write include: family, friends, my partner, my children, togetherness, pets, hope, gardens, festivals, music, art, memories, hopes and dreams.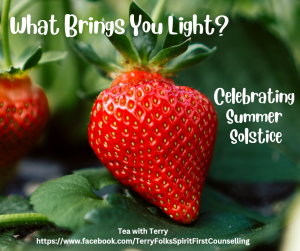 Think about what lightens your days. It may be a particular person, or pet. It may be a view you enjoy daily, or the sound of children's laughter. Perhaps it is a song, a piece of art, a special plant in your garden. Maybe a fond memory you find yourself returning to brings you Light.
Remember, embodied spirituality means we don't just say we believe something, we actually use our bodies to practice our spiritual evolution.
One way to do this is to gather in virtual community to share what brings you light. You will definitely inspire others!
If you wish, you can share on our Facebook page!